The Midden: Snow Surveys
Friday, September 16, 2022 - 9:43am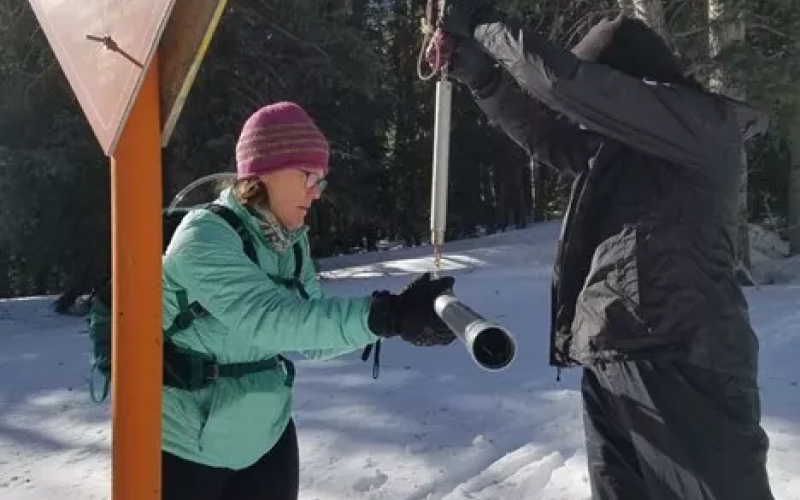 Photo: Using technology to determine the snow water equivalent during a snow survey in the Great Basin National Park. National Park Service/ Gretchen Baker 
This article is the sixth in a series of posts showcasing articles published in the Summer 2022 issue of "The Midden", Great Basin National Park's semiannual resource management newsletter. The series will introduce you to some of the issues, projects, and management strategies currently happening in Great Basin National Park.
Ecologist Gretchen Baker and Biologist Meg Horner describe the involved (and adventurous) process of conducting the annual Baker Creek Snow Survey. The Snow Survey began in 1941 and collecting data requires using cross country skis to access sections of the Park that are infrequently visited in the winter. 
Changing Faces: A Recent History of Snow Surveys in GRBA
By Gretchen Baker, Ecologist and Meg Horner, Biologist 
One of the oldest datasets in the Park is the Baker Creek Snow Survey, with three snow courses located in the Baker Creek watershed. Since 1941, the snow has been measured in late February and late March every year (and in some years also late January and late April).
Snow survey data is managed by the Natural Resources Conservation Service (NRCS). When I (Gretchen) started at GRBA in 2001, the surveys were run by two NRCS employees, including Curt Leet, with help from Rob Ewing (GRBA LE) and volunteers Jeff Woodruff and John Woodyard. I heard stories of how hard it was and was a bit intimidated. The 300% snowpack in 2005 resulted in them being dropped off by helicopter high up in the Baker watershed and skiing downhill so they wouldn't have to break trail uphill through such deep snow. That sounded super cool, but also beyond my rudimentary cross-country ski level.
Around 2010, Law Enforcement staff changed, and Jacob Wahler was sent out to assist. He had never even been cross-country skiing. He survived, so I decided I would give it a try in 2011. It wasn't easy, but with skins to help me get extra traction on the snow, I had enough control to make it doable and fun.
Jacob left the park, and no other law enforcement staff wanted to continue, so park resource management stepped in to assist , particularly Meg Horner and Ben Roberts. NRCS staff retired and moved, and a few years later Nicole Bolton started working for the NRCS in Ely. She quickly learned to cross-country ski and started helping with surveys.
The Baker Creek snow course has three sites: one just above the trailhead at about 8,200 feet elevation, another about 2 miles up the trail, and a third about 3 miles up the trail at 9,500 feet elevation. If we can get to the trailhead by driving or UTV, that means we can do the snow survey in about 8 hours. Otherwise, it is a long day lasting 10 or more hours. The best conditions are when we have good snowpack and recent snowfall. In years with minimal snowpack, we must take off our skis multiple times to avoid lots of obstacles.
When we get to each of the three snow courses, we assemble the three snow tubes, measure the distance to each of the five sites where we sample the snow, and drive the tube into the snow. We read snow depth, the length of the snow core in the tube, and then weigh the tube and snow in the tube to get the Snow Water Equivalent, or SWE. The SWE basically represents how much water would be covering the area if all the snow melted.
Thanks to all who have helped with snow surveys. Over the past 15 years that includes (in alphabetical order): Gretchen Baker, Joanie Bernardi, Nicole Bolton, Chandra Conrad, Joey Danielson, Meg Horner, Nancy Herms, Bryan Hamilton, Jenny Johnson, Curt Leet, Julie Long, Greg Moore, Mark Pepper, Ben Roberts, Brooke Safford, Peter Super, Andrea Wagner, Jacob Wahler, Jeff Woodruff, Liz Woolsey, and John Woodyard.
If you'd like to learn more about the science behind snow surveys, plus great tips for staying safe in the backcountry in the winter, you can check out the online snow survey training: https://www.youtube.com/playlist?list=PLWioilqNQcrHpmDl8kFZpchn5QlDVU-ze